We welcome all comments and questions.
Call us (Maine):
(207) 747-3102
Our Maine location:
846 Main St.
Westbrook, ME 04092
Call us (New Hampshire):
(603) 610-8261
Our New Hampshire location:
36 Maplewood Ave.
Portsmouth, NH 03801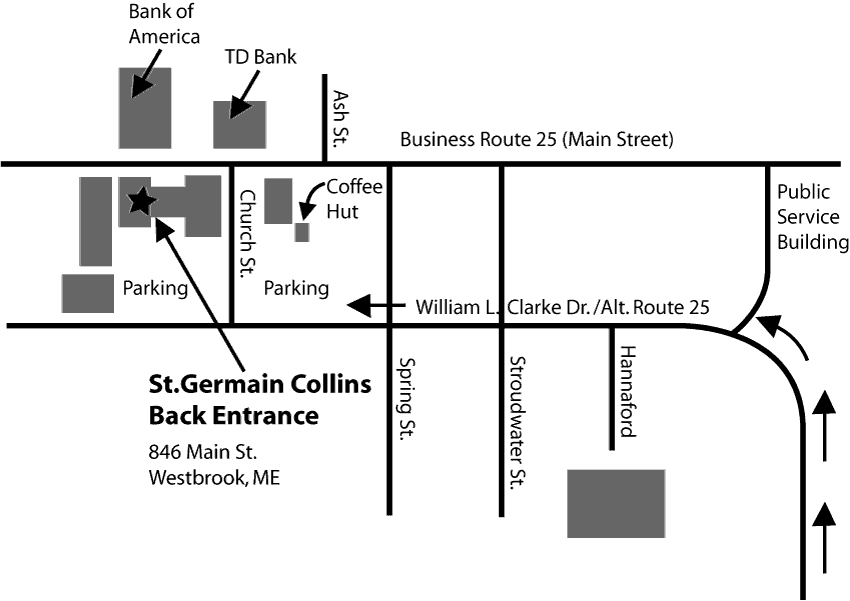 Directions to Maine office:
From the Maine Turnpike (I-95) Northbound and Southbound:
Take exit 47 off the Maine Turnpike (To Rt. 25/Rand Road/Westbrook Arterial).
At the traffic light just off the exit ramp take a left onto Westbrook Arterial.
Go straight through the next light and follow a big bend in the road.
Go straight at the next light, continuing on William L. Clarke Dr./Alternate Route 25.
Continue through 3 more lights.
Take a right onto Church Street.
On both sides of Church Street there are parking lots. (Our white clapboard building is on the left of Church Street).
Our entrance door from the parking lot is labeled St.Germain, 846 Main Street.